The Lakers are a No. 7 seed? The Warriors aren't concerned? The Knicks have home-court benefit?
Sure, the primary spherical of the 2021 NBA playoffs seems to be wild on paper, and issues ought to solely get crazier as groups take the ground for his or her best-of-seven sequence. With a lot expertise shining throughout the league amid an uncommon season, the street to the championship feels broad open.
Under you will discover every thing it is advisable learn about watching the 2021 NBA playoffs, together with series-by-series TV schedules.
MORE: Watch select NBA playoff games live with fuboTV (7-day trial)
NBA playoff bracket 2021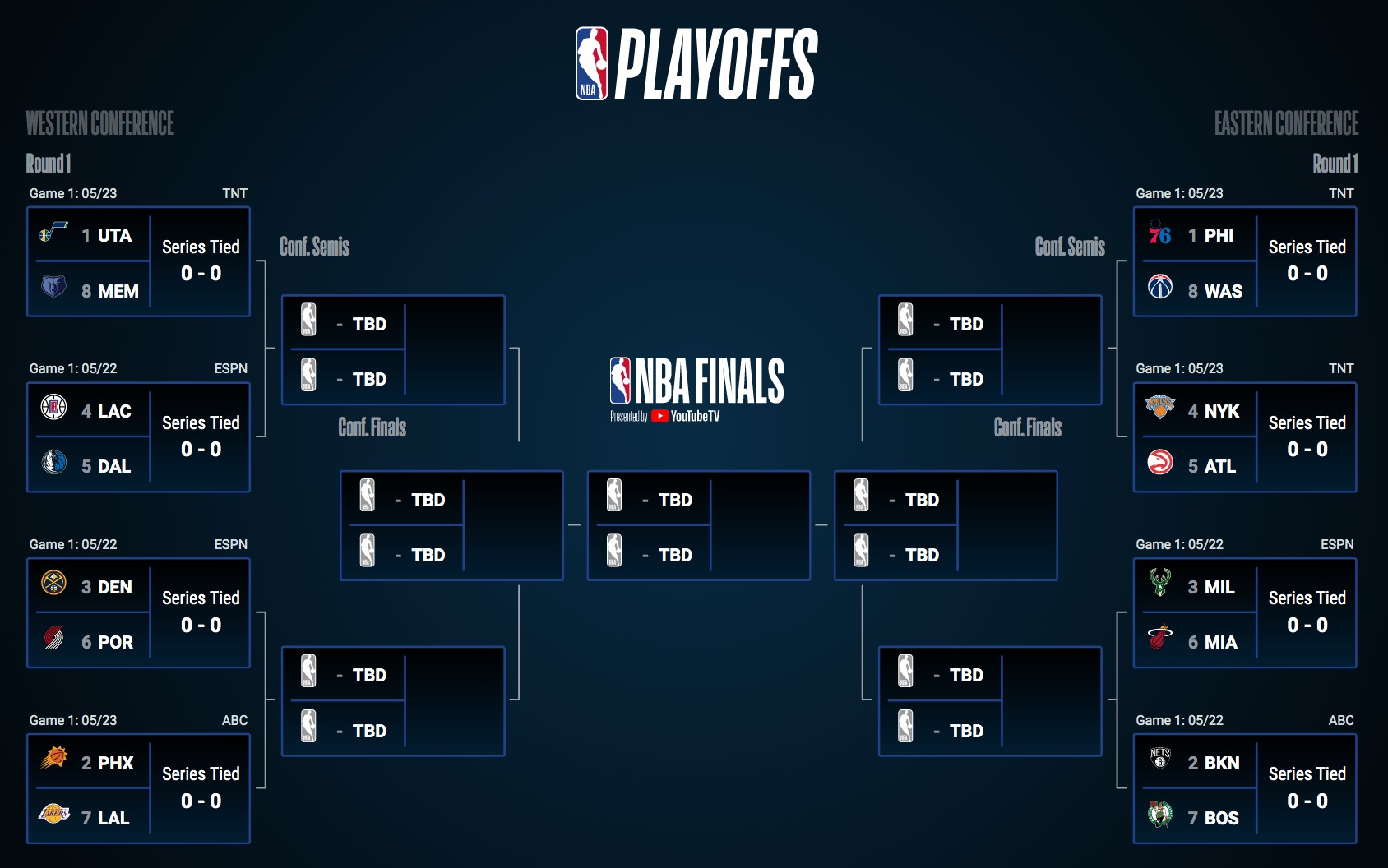 NBA scores & outcomes
Japanese Convention first-round schedule, outcomes
(All occasions Japanese)
(1) 76ers vs. (8) Wizards
| | | | |
| --- | --- | --- | --- |
| Date | Recreation | Time  | Nationwide TV |
| Could 23 | Recreation 1 | 1 p.m. | TNT |
| Could 26 | Recreation 2 | 7 p.m. | NBA TV |
| Could 29 | Recreation 3 | 7 p.m. | ESPN |
| Could 31 | Recreation 4 | 7 p.m. | TNT |
| June 2 | Recreation 5* | TBD | TBD |
| June 4 | Recreation 6* | TBD | TBD |
| June 6 | Recreation 7* | TBD | TBD |
* If mandatory
(2) Nets vs. (7) Celtics
| | | | |
| --- | --- | --- | --- |
| Date | Recreation | Time  | Nationwide TV |
| Could 22 | Recreation 1 | 8 p.m. | ABC |
| Could 25 | Recreation 2 | 7:30 p.m. | TNT |
| Could 28 | Recreation 3 | 8:30 p.m. | ABC |
| Could 30 | Recreation 4 | 7 p.m. | TNT |
| June 1 | Recreation 5* | TBD | TBD |
| June 3 | Recreation 6* | TBD | TBD |
| June 5 | Recreation 7* | TBD | TBD |
* If mandatory
(3) Bucks vs. (6) Warmth
| | | | |
| --- | --- | --- | --- |
| Date | Recreation | Time  | Nationwide TV |
| Could 22 | Recreation 1 | 2 p.m. | ESPN |
| Could 24 | Recreation 2 | 7:30 p.m. | TNT |
| Could 27 | Recreation 3 | 7:30 p.m. | TNT |
| Could 29 | Recreation 4 | 1:30 p.m. | TNT |
| June 1 | Recreation 5* | TBD | TBD |
| June 3 | Recreation 6* | TBD | TBD |
| June 5 | Recreation 7* | TBD | TBD |
* If mandatory
(4) Knicks vs. (5) Hawks
| | | | |
| --- | --- | --- | --- |
| Date | Recreation | Time  | Nationwide TV |
| Could 23 | Recreation 1 | 7 p.m. | TNT |
| Could 26 | Recreation 2 | 7:30 p.m. | TNT |
| Could 28 | Recreation 3 | 7 p.m. | ESPN |
| Could 30 | Recreation 4 | 1 p.m. | ABC |
| June 2 | Recreation 5* | TBD | TBD |
| June 4 | Recreation 6* | TBD | TBD |
| June 6 | Recreation 7* | TBD | TBD |
* If mandatory
Western Convention first-round schedule, outcomes
(All occasions Japanese)
(1) Jazz vs. (8) Grizzlies
| | | | |
| --- | --- | --- | --- |
| Date | Recreation | Time  | Nationwide TV |
| Could 23 | Recreation 1 | 9:30 p.m. | TNT |
| Could 26 | Recreation 2 | 10 p.m. | TNT |
| Could 29 | Recreation 3 | 9:30 p.m. | ESPN |
| Could 31 | Recreation 4 | 9:30 p.m. | TNT |
| June 2 | Recreation 5* | TBD | TBD |
| June 4 | Recreation 6* | TBD | TBD |
| June 6 | Recreation 7* | TBD | TBD |
* If mandatory
(2) Suns vs. (7) Lakers
| | | | |
| --- | --- | --- | --- |
| Date | Recreation | Time  | Nationwide TV |
| Could 23 | Recreation 1 | 3:30 p.m. | ABC |
| Could 25 | Recreation 2 | 10 p.m. | TNT |
| Could 27 | Recreation 3 | 10 p.m. | TNT |
| Could 30 | Recreation 4 | 3:30 p.m. | ABC |
| June 1 | Recreation 5* | TBD | TBD |
| June 3 | Recreation 6* | TBD | TBD |
| June 5 | Recreation 7* | TBD | TBD |
* If mandatory
(3) Nuggets vs. (6) Path Blazers
| | | | |
| --- | --- | --- | --- |
| Date | Recreation | Time  | Nationwide TV |
| Could 22 | Recreation 1 | 10:30 p.m. | ESPN |
| Could 24 | Recreation 2 | 10 p.m. | TNT |
| Could 27 | Recreation 3 | 10:30 p.m. | NBA TV |
| Could 29 | Recreation 4 | 4 p.m. | TNT |
| June 1 | Recreation 5* | TBD | TBD |
| June 3 | Recreation 6* | TBD | TBD |
| June 5 | Recreation 7* | TBD | TBD |
* If mandatory
(4) Clippers vs. (5) Mavericks
| | | | |
| --- | --- | --- | --- |
| Date | Recreation | Time  | Nationwide TV |
| Could 22 | Recreation 1 | 4:30 p.m. | ESPN |
| Could 25 | Recreation 2 | 10:30 p.m. | NBA TV |
| Could 28 | Recreation 3 | 9:30 p.m. | ESPN |
| Could 30 | Recreation 4 | 9:30 p.m. | TNT |
| June 2 | Recreation 5* | TBD | TBD |
| June 4 | Recreation 6* | TBD | TBD |
| June 6 | Recreation 7* | TBD | TBD |
* If mandatory